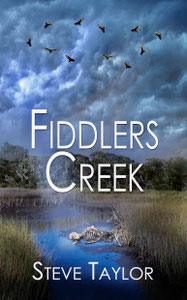 PRAISE FOR FIDDLERS CREEK 
Like father. Like son. My father's debut novel reads like my own work in a page turner of the first order. Intrigue, murder, and an eclectic cast of characters, all set in the Lowcountry with which he is intimately familiar, will keep you up way past your bedtime. A must read." 
                                                                                                              --Brad Taylor,
                                                                                     NYT   bestselling author
                                                                                             of the Pike Logan series*
* * *
"Fiddlers Creek is a fun read filled with moral dilemmas, the discovery of millions of dollars, and no easy solutions. The book is fast paced, realistic, and with more twists and turns than the Appalachian trail."
                                                                                                 --Raymond Bowley,
                                                      retired F.B.I. Special Agent Supervisor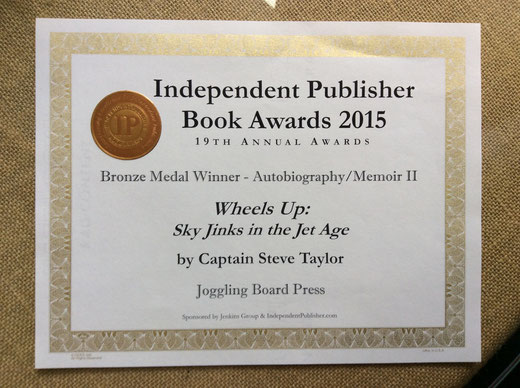 WHEELS UP   Sky Jinks in the Jet Age
by Steve Taylor
KIRKUS REVIEW

...Readers have a front-row seat during harrowing landings in Vietnam, close calls flying for Delta, and other misadventures.... (Taylor holds a U.S. Coast Guard captain's license and, alone and becalmed at sea, gives his inner poet free rein.)...Readers will overlook the frat-boy quality of the early high jinks, because when push came to shove, Taylor proved to be a sensitive, responsible grown-up. They will come to like Capt. Taylor very much, which is more than half the charm of a good memoir and a sign of a good memoirist....
A good read, of special interest to those who love flying.
_______________________________________________________________
+
Midwest Book Review       Captain Steve Taylor                                                                             

Wheels Up: Sky Jinks in the Jet Age is an unexpected treat: unexpected because of its humor…The sky jinks are only a part of a bigger picture which translates to life encounters that hold more than a touch of irony and lessons to be learned. It's a pleasure, however, to see an autobiography that pairs comic relief (as in the hilarious story of Captain French Bread and his flight attendant) with serious reflection, adding a dose of pilot's experiences to supplement other outrageous pranks and fun moments… It's this attention to humor and lessons learned from flying and life that makes Wheels Up an uplifting, memorable and fun read recommended for airplane enthusiasts and general autobiography readers alike.
—D. Donovan, Midwest Book Review 
______________________________________________________________
…Please note that your  book received a 4-5 star review, making it officially "IndieReader Approved", a designation we created to make it easier for readers and booksellers to identify quality indie titles .
…Post the sticker proudly, knowing that your title was judged by top industry professionals—not as merely a great indie book—but as great book, period.
_____________________________________________________________
Wheels Up
by Steve Taylor (Goodreads Author)
Malissa's review
Jul 30, 14
5 of 5 stars
bookshelves: first-reads
Read from July 27 to 29, 2014
I received this book from the GoodReads First Reads program in exchange for an honest review.
Taylor's renditions of his epic career, from The Citadel to his retirement from Delta Airlines, are just as moving as they are fascinating. He presents many life lessons in a way that are easy to understand and thought provoking. Additionally, his insight on topics ranging from the Vietnam War to the rise of the airline industry is phenomenal….Overall. I truly loved this book and highly recommend this book to anyone.
_______________________________________________________________
Wheels Up
by Steve Taylor (Goodreads Author)
Tim's review
Jul 27, 14
5 of 5 stars
Read from July 21 to 26, 2014
What did I think? I loved this book! If you have a love for aviation and the fun you should have in life this is a wonderful book. I received this book as a giveaway here on Goodreads. I opened it at about 6pm on Friday night and was hooked after the prologue and didn't put it down until 3am when I finished. I just couldn't wait to see what fun happened in the next chapter. Thank you so much for the book and the stories shared in Wheels Up.